Dill's RD Grand Illusion *B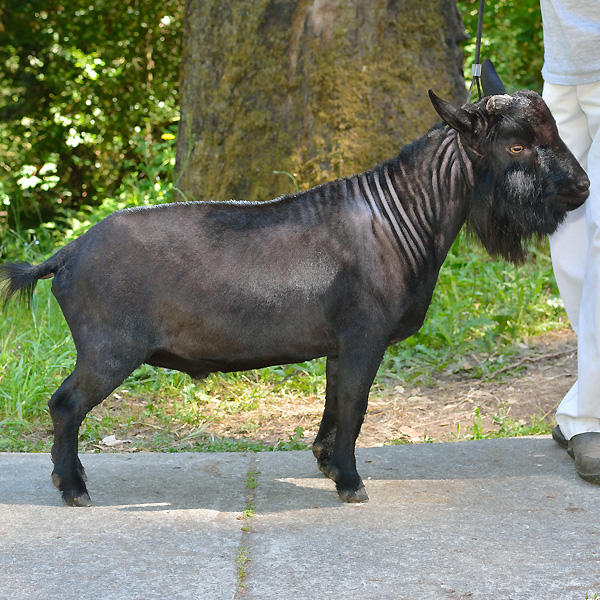 Born: March 26, 2013  
Sire: SG NC Promisedland MS River Dance ++*B
SS: NC Promisedland Mean Streak +*B
SD: SGCH NC Promisedland Pal Macarena 5*M 5*D AR VEEE 91 – 2012 ANDDA Total Performer; 2010 ADGA National Reserve Best Udder
Dam: GCH Dill's W Intrigue 2*M AR EEEE 91 – 2012 ADGA National 1st Udder (3 Year Old)
DS: Dill's D Winchester +B *S
DD: SG Dill's KJ Misstery 1*M *D AR VEEE 90
DNA: I   
Grand Illusion, aka 'Mac', has an impressive pedigree, with strong udder genetics in both the maternal and paternal branches of his tree.
Mac's dam, Dill's W Intrigue, is a beautiful, petite, chamoisee doe. She earned the AGS Silver Juju award in 2012, and first udder in her 3 year-old class at the ADGA National Show that same year. In 2013, at four years of age, she achieved an EEEE 91 score on ADGA's linear appraisal. 
Mac's sire's dam, NC Promisedland Pal Macarena, a superior genetics doe, earned VEEE 91 on linear appraisal as a 4 year old fourth freshener.
Grand Illusion's grand-dam, on his sire's side, NC Promisedland Rain-Beau, held up incredibly well as she aged, producing more than 1100 pounds of milk in her seventh lactation, and is currently ranked in the 99th percentile, as one of ADGA's top 20 Nigerian Dwarf does, for production overall. Rain-Beau was also 2013 National Best Udder, and won best in show three times that same year.
| Date | Dam | #Does | #Bucks |
| --- | --- | --- | --- |
| 4/25/2014 | Castle Rock Cherry Cherry | 1 | 0 |
| 3/28/2015 | Sly Farms Catnip | 1 | 1 |
| 4/25/2015 | Castle Rock Mona Lisa | 2 | 0 |
| 5/21/2015 | Sweet-Spring Poppy | 1 | 1 |
| 3/9/2016 | Castle Rock Lotus 2*M 5*D | 4 | 3 |
| 3/15/2016 | SGCH Castle Rock Minerva 3*M 6*D | 0 | 3 |
| 4/2/2016 | Castle Rock Royalia 2*M 2*D | 1 | 3 |
| 4/9/2016 | Curbstone Valley Mojave Rose | 1 | 1 |
| Year | Age | Height (Inches) | General Appearance | Dairy Strength | Body Capacity | FS |
| --- | --- | --- | --- | --- | --- | --- |
| 2015 | 2.03 | 22.5 | V | E | E | 87 |