Trilogy Ranch SHH Magnum Opus *B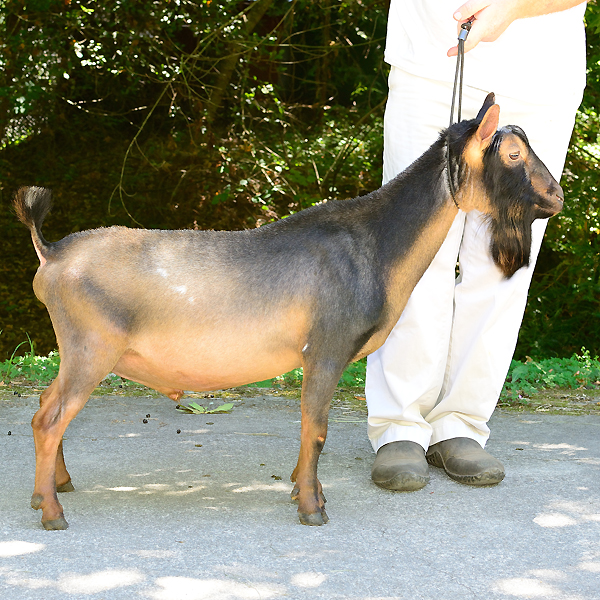 Born: February 14, 2014    
Sire: Algedi Farm Sizzlin' Hot Honey *B
SS: GCH Algedi Farm Drops of Jupiter ++*B *S
SD: SGCH Rosasharn's UMT Tupelo Honey 4*M 4*D EEEE 91
Dam: GCH Algedi Farm D Capella VEEE 91 4*M
DS: Algedi Farm DJ Desperado
DD: SGCH Rosasharn's TL Zenith 3*M 3*D EEVE 90
DNA: I   |   α S1-Casein: A/A
1 x Junior Champion Buck
'Magnum Opus' is defined as 'the greatest achievement of an artist, writer, or composer'. Magnum Opus is also the newest addition to the Curbstone Valley buck pen. Needless to say, we're hoping this handsome young buckling will live up to his name.
This young buck combines some of the best genetics from the Algedi Farm herd. Magnum's dam, CH Algedi Farm D Capella VEEE 90, is a stunning, and petite doe, with many of the qualities that immediately draw my eye, including a beautifully level top line, with very good length of body, and levelness from hips to pins, along with a capacious, and well-supported mammary system.
Capella finshed her permanent grand championship as a first freshener, when more often than not, first fresheners lack the overall maturity required to be able to truly compete against the 'big girls' in the ring their first time out.
Capella's dam, GCH Rosasharn's TL Zenith 3*M EEVE 90, has produced a number of finished champions, and this doe has held up incredibly well, still scoring EEVE on linear appraisal as an 8 year-old.
Magnum's sire, Algedi Farm Sizzlin' Hot Honey is the son of SGCH Rosasharn's UMT Tupelo Honey 4*D. Tupelo has four finished ADGA champion daughters, and is the daughter of an 2007 AGS National Champion, ARMCH Rosasharn's Buckwheat Honey 3*D 3*M EEEE 91.
Magnum died suddenly, and very unexpectedly, in the fall of 2015 due to heart failure. Pathologists noted chronic damage to his heart, and poor development of the cardiac muscle, likely due to lack of selenium/vit E. in utero. Magnum was a sweet and goofy guy, and we greatly miss him. In 2019 we were blessed to bring Magnum's maternal half-brother, Alethia DOH the Big Bang into the herd to pick up where Magnum left off.
| Date | Dam | #Does | #Bucks |
| --- | --- | --- | --- |
| 3/18/2015 | SG Castle Rock Royalia 2*M 2*D | 2 | 2 |
| 3/25/2015 | Curbstone Valley Mariposa Lily 3*M 6*D | 2 | 2 |
| Year | Age | Height (Inches) | General Appearance | Dairy Strength | Body Capacity | FS |
| --- | --- | --- | --- | --- | --- | --- |
| 2015 | 1.04 | 23.5 | + | E | + | 83 |
| 2014 | 0.05 (Young Stock) | 18.5 | V | V | Ec | V |