Alethia Whatsluvgottodewwithit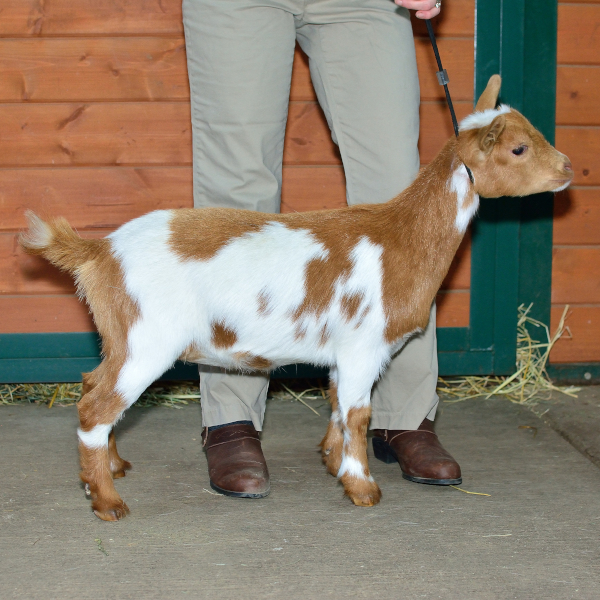 Born: April 27, 2019
Sire: Alethia V Hall Pass
SS: Wood Bridge Farm Valedictorian
SD: SGCH Alethia M Dew Lee Noted 6*M VEEE 91
Dam: SGCH Alethia MH Dew Ya Love Me 6*M *D EEEE 92
DS: SG Algedi Farm MB Manuka Honey ++*B
DD: SGCH Algedi Farm DJ Honey Dew 5*M EEEE 91
DNA: PQ   |   α S1-Casein: A/A
As her registered name doesn't quite roll off the tongue, meet Maisie! This young doe will never know just how much anticipation there was before she was born. Her dam, SGCH Alethia MH Dew Ya Love Me, had yet to have a daughter. Confirmed pregnant for 2019, with a single, Meme's social media supporters waited to see if she would finally have a girl, and indeed, she did! We're absolutely tickled pink that our friends at Alethia Homestead have entrusted Meme's only daughter to us.
I have to laugh, because Meme's little miracle doeling will always have an 'alfalfa quiche' story behind her. When I saw her dam's pre-freshening udder before Maisie was born, I was convinced ultrasound had missed something, and stated something to the effect that I would eat an alfalfa quiche if Meme only had a single. That's how incredible Meme's udder looked before she freshened. I'm still on the hunt for that elusive, albeit perfect, alfalfa quiche recipe.
Maisie is a sweet, mellow, long-bodied doe. She is linebred on Alethia's foundation doe, SGCH Algedi Farm DJ Honey Dew 5*M EEEE 91. Her grandsire, Wood Bridge Farm Valedictorian is the littermate brother of the Colorama sale doe, Wood Bridge Farm Spelling Bee, who was 1st place 2 year-old milker (of 64 does) at the 2018 ADGA National Show.
There's a lot of potential wrapped up in Maisie's pedigree, with solid Algedi/Alethia genetics behind her, and some strong Wood Bridge genetics, too. Maisie freshened in 2022 with triplets, sired by Leonard (Alethia DOH The Big Bang), and her daughter is retained.
| Age | Date | Sire | #Does | #Bucks |
| --- | --- | --- | --- | --- |
| 3.00 | 4/14/2022 | Alethia DOH The Big Bang *B | 1 | 2 |
First Lactation Not Yet Complete
| Year | Age | Height (Inches) | General Appearance | Dairy Strength | Body Capacity | Mammary | FS |
| --- | --- | --- | --- | --- | --- | --- | --- |
| 2022 | 2.06 | | V | V | V | V | 86 |