Curbstone Valley Tuckers Oak *B *S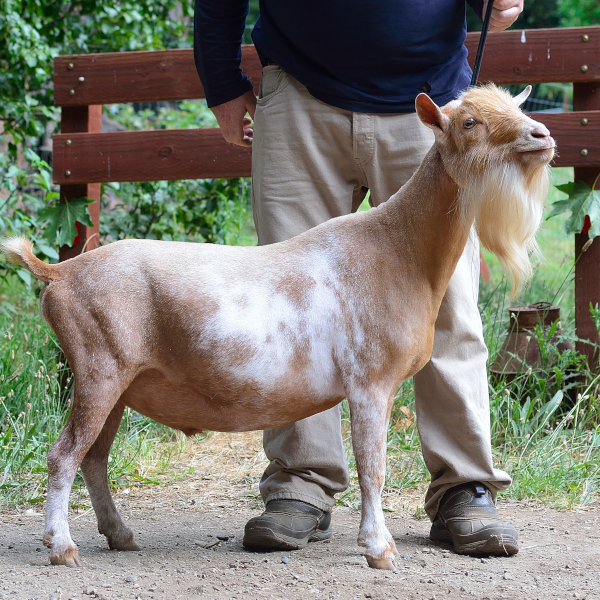 Born: May 12, 2018
Sire: Castle Rock Roxstar
SS:  Caprine Acres HS Cooper
SD:  GCH CRF Castle Rock Roxanne 1*M *D AR2461 VEEE 91
Dam: SG Castle Rock Lotus 2*M 5*D AR 2774 VEEE 91 *Elite Doe 2017/18*
DS: CRF Castle Rock Harvest Moon ++*B +*S AR HS
DD: SG ARMCH Lost Valley TB Infinity 1*M 4*D
DNA: PQ   |   α S1-Casein: A/B
Tucker's dam needs little introduction for those that know our herd well. Lotus has always been a rock-solid doe, with an incredible work ethic, and an integral foundation doe in our herd. Her achievements are difficult to keep up with. Lotus is a superior genetics doe, has placed on the Elite Doe list for the last few years, and been a top ten doe with ADGA and/or AGS numerous times. Most recently the ADGA Breed Leader list placed Lotus 1st for protein, 2nd for butterfat, and 3rd for overall milk production nationally in the breed, producing 1620 lbs.
Tucker has a LOT to live up to in regards to dairy performance. Of course, only time will tell via his daughters, but his general appearance is promising. He is long, and elegant, with open ribbing, and a little more angular than his dam. His sister, Sandhill Sage, freshened with a beautifully attached udder, with excellent rear udder height, and one of the widest rear udder arches in the herd, and as hoped, is highest in production so far this season of the first freshening does.
Due to a slightly bloated buck pen, Tucker has not had much chance to breed yet. However, he will be used with a select couple of does this season, and we're anxious to see the results via his progeny.