Curbstone Valley DS Asterion *B *S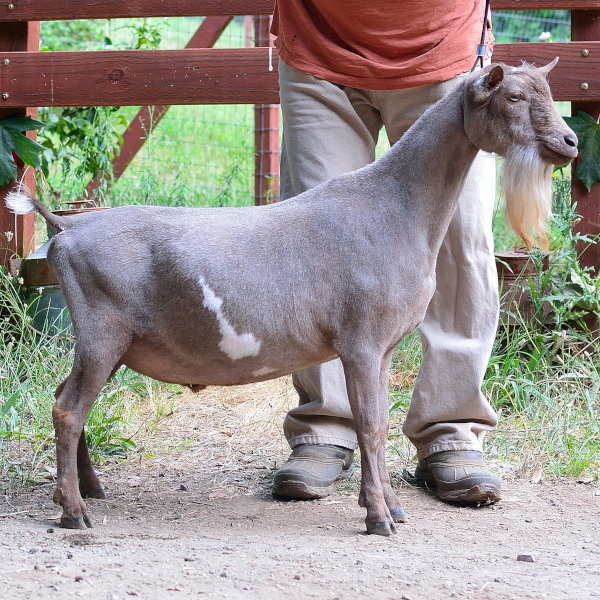 Born: February 24, 2019
Sire: CH Alethia HB Destiny's Starman *B EVE 90
SS: Algedi Farm MB Honeymoon Bay ++*B
SD: GCH Alethia DJ Written N The Stars 5*M *D AR 3054 VEEE 91
Dam: GCH Algedi Farm RB Ocean Flower 6*M *D AR 2777 EEEE 92
DS: Camanna CC Rhythm 'N Blues
DD: GCH Algedi Farm DJ Splash O' Honey 5*M VVEE 90
DNA: PQ   |   α S1-Casein: A/A
 COI: 8.51%
1 x Junior Champion Buck
Asterion is our newest, and most anticipated retained junior herd sire for 2019. He is a light linebreeding on Algedi Farm Drops of Jupiter, and Rosasharn's UMT Tupelo Honey. 
This young buck is long, angular, and dairy, and both his dam, and sire's dam have some of the best udders in the herd.
Asterion's dam, Ocean Flower, has continued to improve as she ages, and was re-appraised as an eight year-old at EEEE 92, including scoring 'E' in head, shoulder assembly, front legs, back, and rump. Two days after that appraisal, Ocean proved herself again by earning best of breed in the Champion Challenge class in two rings at REDGA, and being awarded Best Senior Doe in Show.
His sire's dam, Alethia DJ Written N The Stars the previous year earned a number of best of breeds in champion challenge as well.
Strength in the mammary system abounds on both sides of Asterion's pedigree, with his dam, and sire's dam earning medial strength scores in the 30's, with strong attachments all around, and plumb well-placed teats.
We anticipate that Asterion will produce some beautiful dairy daughters, with strong productive mammary systems, and look forward to meeting his first progeny in 2020.
| Kidding Date | Dam | #Does | #Bucks |
| --- | --- | --- | --- |
| 2/28/2020 | Curbstone Valley Whitney 3*M 5*D | 2 | 0 |
| 3/7/2020 | Curbstone Valley Nimue 4*M 4*D | 0 | 1 |
| 4/2/2020 | Curbstone Valley Scarlet Aster 4*M 7*D | 0 | 1 |
| 4/3/2020 | GCH Alethia HB When Stars Align 6*M 2*D | 0 | 1 |
| 4/8/2020 | Castle Rock Hundred Year Storm 3*M 5*D | 1 | 1 |
| 4/21/2020 | Curbstone Valley AD Kismet | 1 | 1 |